A Word From the Chairperson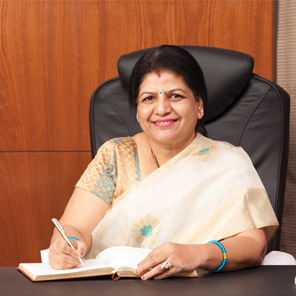 Welcome to a School of difference! At Sou. Vijayadevi Yadav English Medium School, we value your children as the world of tomorrow. So when it comes to helping them with the academic learning or the extra-curricular activities, we always deem them as important as the small sapling that we plant in a garden. We create the necessary conducive soil for the growth of the sapling. We give your children the best of environment to grow and develop. Just as the sapling requires constant nurturing of water and proper manure and sunlight, so our teachers in the school educate your children with the right kind of knowledge and learning that is deeply value based and anchored in the virtues of love, mutual respect and growth.

We also believe that knowledge is not just filling of the bucket, but rather as the root meaning of the word 'education' says, 'drawing out', we know right education is motivating, encouraging for a growth from inside - out. The necessary skills and talents hidden in your children are drawn out, shaped and promoted so that the little sapling matures and brings out flowers and fruits that attract and give joy to everyone around. We believe our real work as teachers, mentors and guides would be complete, when the children of our school will become tomorrow's architects who will shape the nation and the universe into a place that God sees and smiles upon.

This seems to be a Herculean vision to attempt. But as Robert Browning said, "A man's reach should exceed his grasp or what's heaven for." The first requisite to do anything worthwhile is to dream big and then the next is to follow it by worthwhile actions. We also realize that anything worthwhile cannot be achieved unless a proper synergetic effort backs it up in form of cooperative spirit from all ends. So we urge you to parents, mentors to join the hands of the Management, the teachers, staff and well wishers so that we together can give your children the gift of realizing his or her dream of a better world.
Best Wishes.
Mrs. Vidya Gulabrao Pol
Chairperson
Sou. Vijayadevi Yadav English Medium School