Infrastructure
Every child is unique "All pupils are valued" SVYEMS is a very special school with luxurious infrastructure, pleasant atmosphere and small enough in number to allow all staff to know all pupils whether they teach them or not.
SVYEMS provides a first hand experience in all practical subjects. All the labs in the school are well equipped with latest apparatus, techniques, and instruments. Students have access to the following laboratories in the school.
We have been able to position ourselves among the leading schools in Maharashtra, through our offered quality school education and world-class infrastructure facilities. Our institution has been appreciated for over the years by numerous parents owing to our excellent services and strict discipline level. The two storeyed building with basement provides an exemplary ambience for different kinds of activities. The school provides state of the art infrastructure and amenities supported by the commitment and experience of the management. The building accommodates spacious and well ventilated classrooms, seminar halls, activity halls, a huge library with collection of more than 5000 books, medical room with a stationed nurse all the time during the school hours, career counseling room and state of the art fully equipped latest separate physics, chemistry, biology, computer, English, maths, social science and a composite science labs for primary students.
For our little tiny-tots the infrastructure also comprises of separate nurseries for transforming their innocent childhood into a wonderland of innovation and exploration. Sports playground and activities are an integral part of the school campus. We offer a wide range of choices and opportunities for both individual and group experiences, as well as for the development of life long skills and interest. Students select from as list of choices when they register for classes each term. Our school seeks to cultivate a sense of National Responsibility through its efforts to develop physical education a base for betterment of future generation. For this, Children are trained in Basket Ball, Volley Ball, Cricket, Football, Lawn Tennis, Hockey and many more.
Classrooms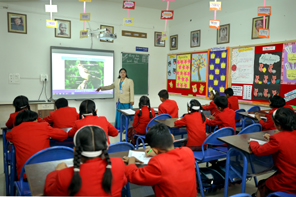 The classrooms are IT enabled and equipped with audio visual aids like smart boards, projectors etc that make learning interactive and enjoyable. Besides over 25 classrooms in the school, dedicated rooms are designed for indoor activities viz. Art Rooms, Vocal Music Room, Theatre Room, Clay Modeling Room, Western Music Room and many more.
Kindergarten, Primary, Middle & Secondary Sections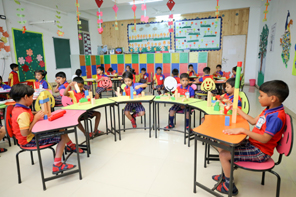 They have their own individual learning and activity areas with the age and curriculum appropriate resources required. The primary & middle classrooms dynamically display apropos of the teaching-learning done in the respective classes. Each student has his/ her own locker to keep her/his belongings. The seating arrangement is paired, grouped or informal allowing buzz sessions & easy sharing of ideas, to follow the principle of collaborative learning. Each classroom speaks about its individual character that is a reflection of personality of its students and teachers.
Robotics Lab
Technology had really made the mankind more innovative and resourceful. The inventions of human being are far more comprehensive and growing in a fast-phase in development through the help of the advance technologies itself. If there is one word that defines the fast paced world we live in today is "technology". With the passage of time, the wonders of technology has become an arena very powerful and rapidly growing. Indeed, Robotics engineering has marked its significance, so we have our own 'Robotics Laboratory'.
Resource Lab with Reading room/LIBRARY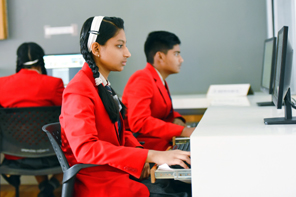 The school has a well stocked and well managed library. It stacks about 2,000 books besides other teaching aids like video & audio cassettes and CDs. There are many activities organized in the library which include Library Week, workshops by various authors, visits to the information centers, quizzes, Book talk, speed reading, form a book on current topic, etc. Our school library exists to provide a range of learning opportunities for both large and small groups as well as individuals with a focus on intellectual content, information literacy, and the learner. In addition to classroom visits with collaborating teachers, the school library also serves as a place for students to do independent work, use computers, equipment and research materials; to host special events such as author visits and book clubs; and for tutoring and testing. The School library is equipped with a collection of over 3000 books to choose from where a student can borrow books for a week's time on the cards issued to them. The collection is quite spectacular - poetry, drama, fiction, non-fiction, dictionaries, encyclopedias, classics, magazines, journals, videos, CD ROMs, films and music. Special care has been taken to ensure an atmosphere that encourages students to read and have intellectual stimulation.
Health Clinic/Medical Room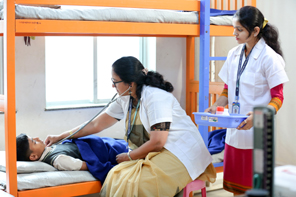 The school has its own health clinic which is looked after by a qualified Doctor, and trained maid. Every possible care is taken of the child during school hours and first-aid is given as and when necessary. Necessary emergency medicines / equipment are available in the clinic. A well equipped Ambulance is also available round the clock.
Store/Tuck shop
The school has a well stocked Books & Stationery shop within its premises.
Activity Halls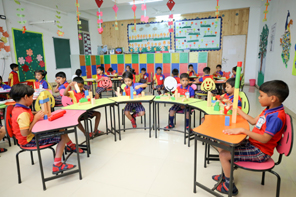 The school aims at the all-round development of the students by providing activities oriented teaching where learning becomes fun and an enriching experience.
Art & Craft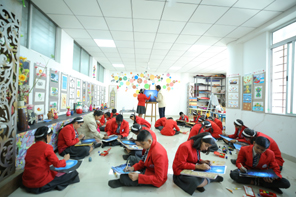 The school has a very well decorated and an excellent art and craft department so that students feel comfortable to express their creative sense through their work. The Fine Art room provides a perfect ambience to the students to enhance their aesthetic skills
Theatre, Dance and Music Room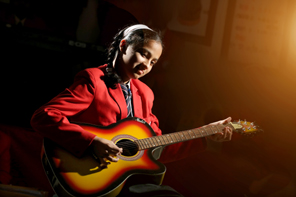 Acoustically treated music rooms and dance rooms for training students in Vocal / Instrumental music, Indian Classical / Folk / Western dance and theatre are inevitable assets of our school.
Music is the food of the soul. It is the source of solace and relief. Vocal music training is given to the students and children are taught to use various instruments like Congo, Bongo, Harmonium, Casio and guitar. Indian and Western Indian dances like classical, folk and contemporary dances are taught in the school
Indoor Sports Room
The Indoor sports room is a spacious Hall comprising a separate Table Tennis. The Hall also caters to playing other indoor games like Carom, Chess, etc.
Sports Infrastructure
| | |
| --- | --- |
| Athletics | 400m Eight Lane Track, Long Jump pit, Hurdles Throws Arena: Shot put, Discus, Javelin etc. |
| Basketball | One Synthetic flooring Basketball Court. |
| Cricket | Full fledge Cricket Ground. |
| Football | Full fledge Football Ground with Junior Ground. |
| Handball | One Handball Ground. |
| Horse Riding | Horse Riding tracks |
| Swimming | Six Lanes 25m Swimming Pool, Toddler Pool |
| Tennis | Two Synthetic Flooring Tennis Courts |
| Volleyball | One Volleyball Court. |
| Rifle Shooting Range | The largest Shooting range in Maharashtra, where our 'Golden girl' Abhidnya Patil practiced 'Pistol shooting' and won Gold Medals in National level Competitions. |
| Table Tennis | Two International Tennis Table Size : 270 x 150 x 76 CM, Board Color : Green |
| Fencing | Two Pair Fencing Protective clothing |
| Skating | Freestyle Skating, Group Skating, Single And Pair Skating |
| Archery | 18 Meters, 25 Meters, 30 Meters. |
| Boxing | International Punching bags, Speed Bag and Gloves |
Language Centre
The school is teaching Japanese language apart from English and Hindi.
Multi Purpose Hall
This is a multipurpose hall equipped with hi-tech audio visual equipment, having a seating capacity of 1200 persons, for hosting school events which can double up as a hall for hosting tournaments and indoor games. to exhibit the annual day performance and other performances like films, concerts by renowned performing artists, from time to time.. Infrastructure
SUPW Room
For developing aesthetic and creative skills the school will provide scheduled activity periods on Art, Crafts (batik, tie and dye, clay, painting, embroidery, handicrafts etc).
Laboratories
Labs are the distinguishing feature of our school where children come and learn practically which helps them to think out of the box. There was a time when science laboratories were planned and built as standalone facilities, with science encompassing a range of activities from general science to specialist physics, chemistry and biology. Now there are new ways of thinking in which science is seen to link into school's total curriculum, and sometimes to go beyond the school into the workplace.
Linguaphone Lab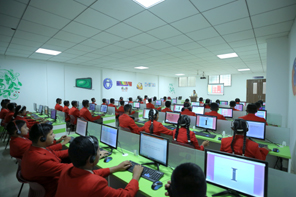 Keeping in mind the correct phonetics the 'The Liguaphone' language lab is equipped with latest audio-visual teaching aids for the learning of languages and to enhance overall communication among students including pronunciation.
Computer Lab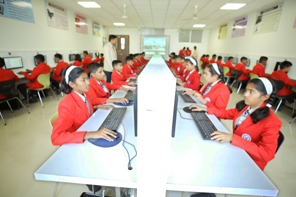 IT Computer Education forms an integral part of the syllabus for all classes from Nursery to X and comes as an optional subject for students in class XI AND XII. The computer lab is equipped with the latest software and hardware.
Science Lab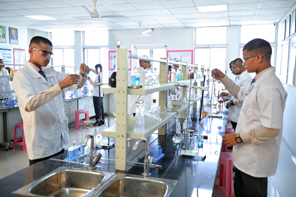 The school boasts about its separate laboratories for Physics, Chemistry, Biology, which are a source of enrichment for the students with all the latest equipments and technology being provided to the students which emphasizes on student centered learning through discovery and experimentation, team work and cooperative learning as well as greater emphasis on environmental issues and on occupational health, safety and welfare are re shaping the internal environment and the management arrangements.
Maths Lab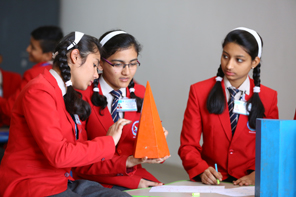 A separate Maths Lab has been set up in order to make mathematical learning interesting and joyful. Students are taken to the Maths Lab to clear the concepts. The lab is fully equipped with all the required materials needed to help the student's concept through relevant activities which further helps in developing the skills thereby strengthening their skills and awareness about new concepts and methodologies.
Social Science Lab
A well equipped social studies room cum laboratory with equipments, apparatuses and material like the Globe, maps, charts and models required for the subject, which helps in creating and maintaining a much needed friendly atmosphere for effective learning. It provides a work room for the pupil-teachers because activities and the practical solution of problem characterize every unit or topic. The permanent display of important maps and globes, pictures and charts and constant reference to them by teaching is sure to make the teaching of social studies effective, lively and interesting.
Psychology Lab
Our endeavors are always focused on the future accomplishment of our dear students. We believe that the students should keep themselves focused about their careers and start preparation for these. Sometimes the students need a proper guidance and counselling regarding their careers. To ensure these, we offer the facility of career counseling that helps the students to know about various future prospects and careers for them. Our school managing committee organizes such types of counseling activities.